Beaded Union Jack fabric panel made up to a cushion.
Hot water bottle cover with personalised embroidery for the owner of a boat called "Seagull".
And a matching one for his girlfriend too...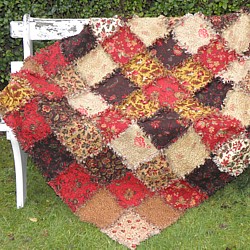 Tiina's Christmas holiday sewing treat! I love, love, love this quilt which is mostly worked in the gorgeous French General fabrics and machine stippled
>
This is a great project to practise and/or learn free motion machine quilting. All blocks are quilted before they are joined together - hence, small sections to manage.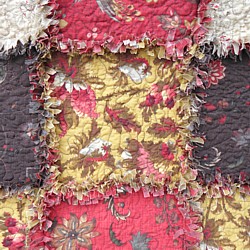 Sorry - we have sold out on all these fabrics, but the quilt can of course be made in other beautiful fabric as well.
The gorgeous Tikki designed Jane Austen Quilt.
Kits sold out - sorry!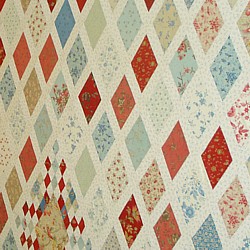 The lovely Jane Austen Quilt hanging on the design wall ready to be basted - this is one of my all time favourite quilts! Made from the gorgeous Rural Jardin fabrics. Pattern available here.
Floor assembly of my beloved zigzag quilt! Made from a Tikki quilt kit.
You can view a more stylish picture on Amelie's blog with the blocks arranged on a design wall.
This quilt was made for and donated to a school charity auction. It incorporates the embroidered details and the core subjects and so is uniquely symbolic.
Detail of the centre of the quilt showing the embroidered school building.
More detail on the quilt with the upper school houses. The auction was a great success and the quilt made a whopping £5500 for the school.
Lovely charm on Ella's Jolly Bag.
Charms available here!
And the Jolly Bag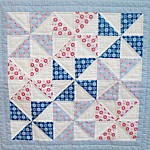 Hand quilting detail from the Northern Lights Quilt.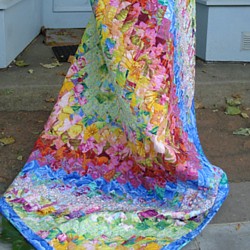 The Trip Around the World Quilt in Kaffe Fassett Fabrics. Kit available here!
Caroline's Trip around the world Fassett quilt - work in progress. Lovely, lovely... and it's ready in the next image.
Kits available!
I'm thrilled! It's my first quilt and it took me 8 days to get to the point where it is ready to be sent off for quilting. Thank you for all your help! From Caroline
And have a look at Lucy's quilt here!
Corinne's lovely "Disappearing Nine Patch" Quilt in pastel colours
Marie's beautiful Disappearing Nine Patch Quilt in Tilda Fabrics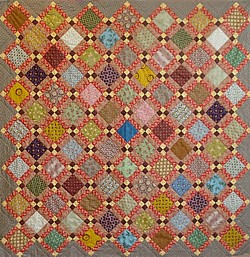 The Historic Anniversary Quilt. Kits available!
Another Kaffe Fassett Quilt - this one is the "Quarter trip" quilt and it is proudly displayed in the shop - welcome to visit.
Slashed Chenille Quilt
Kew Gardens in Bloom Quilt made up in Kaffe Fassett Fabrics. Available as a kit!
Red and White 16-square block quilt - single bed size. The squares were cut at 7cm. Available as a pattern and a fabric kit.
Pillow sham cover - available as a pattern!
Batik fabrics- folded windows Quilt
Same Batik quilt - reverse side
Quilt made using the curved ruler set which can be found in the haberdashery section. Block size 7" .
The Common Thread Group from the London AWC
Tiina & Maria - old mates from the Common Thread group
Another gorgeous Kaffe Fassett quilt Kits available!
Shop interior view at Tikki
Shop interior view at Tikki
Tikki Patchwork Shop interior view
Shop interior view at Tikki
Tikki Patchwork - Quilt fabric stock image
Needles & Threads (October 2008)
The Tikki Shop in Kew Gardens
New fresh look for the Tikki Patchwork shop in Kew Gardens, Greater London (March 2008)
And finally the Tikki Patchwork name is up! (April 2008)